Daikin/Goodman Air Conditioning
Sales | Service | Repairs

Amana Air Conditioning
Amana Air Conditioning has been known as American Ironic and currently owns the Daikin and Goodman brands. Currently, all 3 brands of heat pumps are identical.
Atlantis Air Conditioning is ready to upgrade your home to the latest technology in the A/C Marketplace. Are you ready to start get some answers to your questions about Amana best products for your family? Then call us today.  
Amana Air Handlers and Coils
Amana Air Handlers and Coils
Amana Tempature Control
What is ComfortBridge technology?
ComfortBridge technology 'bridges' indoor comfort with smart technology, and is factory-installed into select, premium Goodman brand gas furnaces and air handlers. ComfortBridge helps your entire Goodman brand heating and cooling system cost-effectively operate at peak performance.
In the past, communicating technology was limited to a few expensive, proprietary thermostats. Now, ComfortBridge technology is installed securely in all premium Goodman brand furnace and air handler equipment, providing you consistent, energy-efficient home comfort with the most commercially available thermostats.
COMFORTNET™ CTK04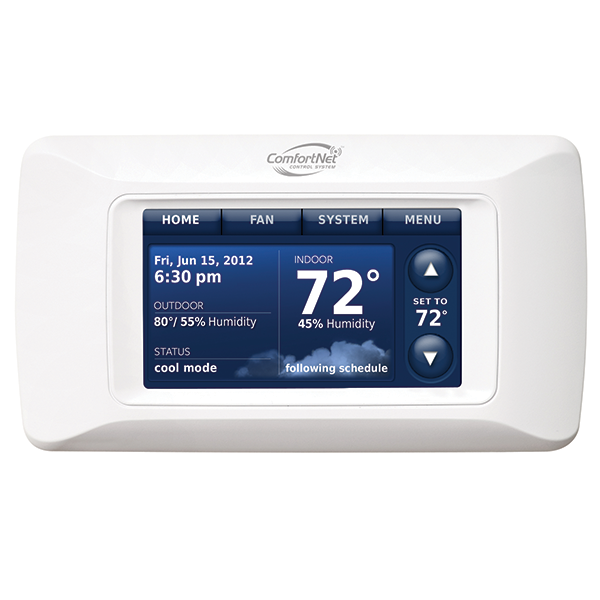 Enjoy a superior level of indoor home comfort control with the classic ComfortNet™ communicating system.
Air Conditioners
Daikin air conditioners provide SEERs up to 19, in streamlined, wall-mounted indoor units paired with quiet and compact outdoor units.
Heat Pumps
Daikin EMURA Single-Zone Wall Mount Heat Pump
17 Series Wall Mount
19 Series Wall Mount
Daikin heat pumps provide HSPFs up to 12.5, making Daikin systems efficient and effective even in extreme environments.